HD SELECTION
---
World-class manufacturing lecture video


SUMMARY INFORMATION ON THE VIDEOS
Shingijutsu Co. ,Ltd. is a group of consultants who promote new manufacturing technologies.Since it was founded in 1987, Shingijutsu has been providing consulting services to companies around the world in the field of manufacturing and has produced remarkable accomplishments in cost reduction, quality improvement, etc.Shingijutsu also holds seminars every year targeted at people who act as leaders in kaizening manufacturing operations, thus contributing to the development of human resources who can bring about improvements in manufacturing techniques.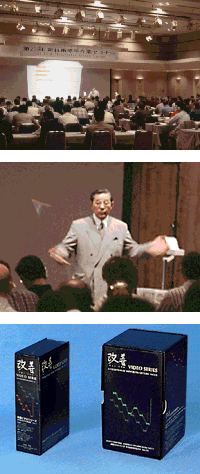 Vol.1

TAPE A (106min.)
"The Basic Way of Thinking Behind Just-In-Time"
LECTURER: Yoshiki Iwata, President, Shingijutsu
The "Global Production System", which aims at the correct way of manufacturing, is a production system that brings maximum business benefits with minimum human resources, raw materials and equipment. One of the pillars of this system is the Just-In-Time method, which produces one piece at a time in a timely manner only when it is sold. This tape introduces the basic way of thinking under Just-In-Time and the basic concepts in shopfloor kaizen.

TAPE B (72min.)
"Cost reduction and kanban"
LECTURER: Senji Niwa, Managing Director, Shingijutsu
The era of setting the selling price by simply adding profits to the cost is gone. In this age when the market determines the price, the only way for a business to make profits is to reduce all the costs associated with manufacturing. This tape addresses the problems inherent in the existing production methods and explains methods for cost reduction and the Kanban system in an easy-to-understand manner.



Vol.2

TAPE A (111min.)
"Jidoka"
LECTURER: Chihiro Nakao, Executive Vice President, Shingijutsu
"Jidoka" with a human touch is not the same as mere automation. Its aim is to establish an efficient production line that utilizes inexpensive equipment which is capable of detecting defects and assuring quality. Jidoka is the other pillar of the Global Production System. The tape contains discussions of the jidoka concept in comparison with conventional production systems as well as basic notions about the jidoka steps.

TAPE B (67min.)
"Standard Work"
LECTURER: Akira Takenaka, Managing Director, Shingijutsu
Standard work is a way of carrying out work which is developed in order to manufacture efficiently (according to takt time) and at a low cost. It is necessary to develop standard work if you want to eliminate muri (unnaturalness) , muda (waste) and mura (inconsistency) and implement Just-In-Time and jidoka. Standard work is the starting point of kaizen. The tape explains how to set up standard work and promote kaizen.
price
Vol.1[Set of two video tapes]:\193,200(tax extra)
Vol.2[Set of two video tapes]:\193,200(tax extra)
Set of four video tapes: \386,400(tax extra,box case included)

copyright
HIRANO & ASSOCIATES, INC.
distributed by
HIRANO & ASSOCIATES, INC.
SHINGIJUTSU CO., LTD.,
SEIWA SANGYO CO., LTD., AND
Inquiry
For more details, please contact the following by facsimile.
Interplanning, Inc.
8-12-7, Fukazawa, Setagaya-ku, Tokyo, Japan
Phon:81-3-3704-8111
FAX:81-3-3704-8121
E-Mail:toshi-toyonaga@hd-group.co.jp
A person in charge : Toshiyuki Toyonaga


---
copyright(c) Hirano & Associates 1997